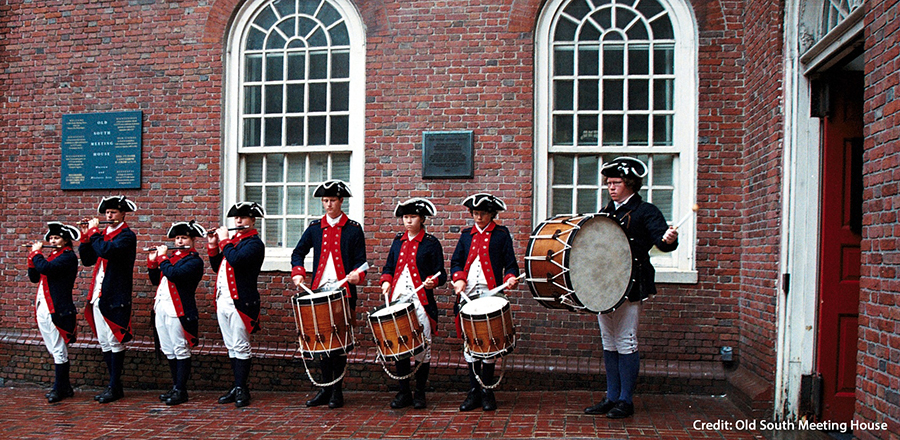 Boston Group Tours
We travel to see something new, to grow as human beings and experience new things. There is no better way to do this than to step back in time, interact with the historic birthplace of your nation, and relearn what it means to be an American. Visit Boston.
Being the starting ground for the American Revolution, Boston is one of the most historically rich cities in the country. It is here that you may walk through Paul Revere's fully restored home, made to look as it did in 1775 when he set out on the infamous Midnight Ride. Take a tour through the Old South Meeting House where Benjamin Franklin, Samuel Adams, and others made the revolution a solid reality by starting the Boston Tea Party.
When your group is tired of history, do some shopping at the Faneuil Hall and Marketplace or Harvard Square. Visit the Museum of Science which has exhibits catering to all ages and interests with interactive galleries to make learning fun. Touch live manta rays at the New England Aquarium or take one of their chartered boats out to the whale sanctuary and see these giant mammals in their natural habitats. If you love animals, walk through the Franklin Park Zoo to see exotic creatures like anacondas and bears, kangaroos, giraffes, tigers, and zebras.
Of course, you can't forget the nation's enduring pastime: baseball. Boston is home to the nationally beloved Fenway Park. Go see a game, cheer on the Red Sox as you sit on top of the famous Green Monster or take a tour of the park and have batting practice where the professionals play.
You can't go wrong when choosing Boston for your group's next destination. Come down and experience the reason why the Patriots decided this country was worth fighting for.