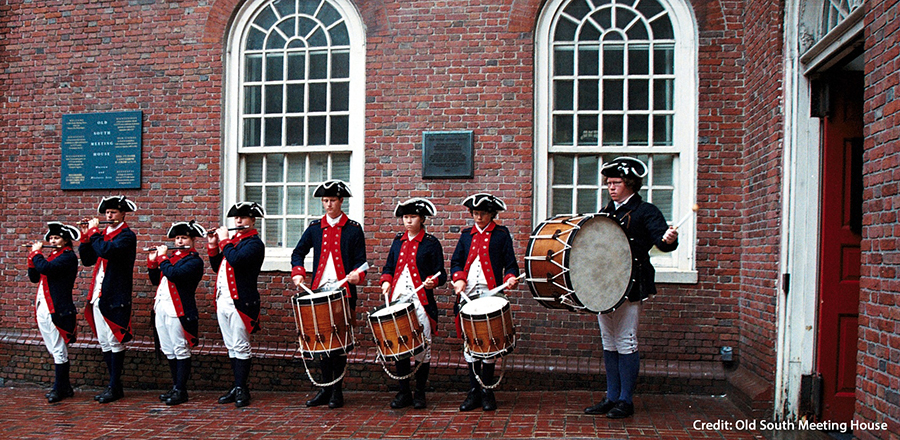 Boston Attractions
Boston is filled with many great historical landmarks and neighborhoods. You can explore one of America's most-treasured cities and experience so much. Below are only a few of the unique sites and attractions which Boston and the surrounding area has to offer.
Boston Commons
This free museum contains American artifacts ranging from art and literature to tools and clothing.
Boston Duck Tour
A trip aboard this amphibious vehicles will take your group to uncharted pieces of Boston!
Boston Museum of Science
Literally, hundreds of exhibits are here to tantalize your eager brains!
Broadway in Boston
No need to drive to New York, Boston has an excellent Broadway district of its own!
Bunker Hill Monument
Marking the first major battle of the American Revolution is this 221-foot tall obelisk!
Concord Museum
A combination of special exhibits and collections invite you to this free museum!
Dead of the Night Ghost Tours
This is the time to decide, do you believe in the supernatural, or don't you?
Faneuil Hall and Marketplace
6.5 acres of prime shopping and rich history! Catch live performances as well!
Fenway Park
Major league ball fans find that there are excellent tours available for followers!
Franklin Park Zoo
Choose from the Tropical Rainforest and the Kalahari Kingdom or see everything in between!
Granary Burying Ground
See the final resting places of many influential persons such as Paul Revere.
Harvard Square
The historic center of Western Cambridge still maintains its age-old integrity.
Mary Baker Eddy Library
Home of Baker's papers and the Hall of Ideas for special performances.
Museum of Fine Arts
One of the best art collections in the world, visit Boston's own Museum of Fine Arts!
National Heritage Museum
The location of our 200-year-old linen American flag with only 15 stars!
New England Aquarium
This is an incredible stop on your itinerary to get acquainted with aquatic creatures!
Old North Church
The very steeple where Paul Revere echos, "One if by land, two if by sea."
Old South Meeting House
The very same establishment where Benjamin Franklin was baptized in 1706!
Paul Revere House
See the creations of Paul Revere & Sons like a 900-pound bell and a mortar.
Plymouth Plantation – Mayflower II
This is a recreation of the original Mayflower which no longer exists.
Salem Witch Museum
You can only imagine what your group will find in the gift shop at this museum!
State House
The oldest public building still erect in the original 13 colonies!
Wenham Museum
Dedicated to preserving the magic of childhood through the eras, the Wenham Museum is full of nostalgia!