Wanderlust Wednesday - Destination Desolation
Low rainfall, minimal plant life, and hot temperatures. Those are the three things that make up an American desert, technically. But what about the diverse history, the unique geography, and the picturesque, vast, undisturbed wilderness that also make up an American desert? If you are ready to go discover something truly unique this summer, this is the perfect blog for you.
The Great Basin Desert is the largest patch of arid, dry, desolate desert land in the United States, a strip of land generally defined by the long, thin, parallel mountain ridges running north to south within it. This portion of U.S Desert takes up the northern ¾'s of Nevada, western and southern Utah, the southern ⅓ of Idaho, and even bits of Oregon, Wyoming, and Colorado. The mountainous core of this region is separated by wide valleys, dry lake beds, and tons of salt basins, making for a really interesting and diverse scope of landscape and scenery within, including such things as volcanic remains, hot springs, and ghost towns. The precipitation that falls here is mostly snow within the mountains, and the plant you will see growing is mostly sagebrush.

Here are a few specific sites you should visit today:
Great Basin National Park - Most typical picture-perfect scenery of this area.
Golden Spike Historic Site - Gorgeous and massive patch of protected land you really won't want to miss.
Antelope State Park - On the shore of the Great Salt Lake.
Cathedral Gorge - Nevada's finest and most unique sandstone formations.
Salt Lake Desert - Salt Plains as far as the eye can see!
Welcome to the Mojave Desert, the land of extreme elevations, extreme temperatures, and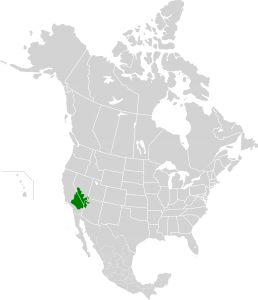 extremely gorgeous desert archetypal scenery. Sitting between the Great Basin Desert and the Sonoran Desert, Mojave takes up the southern parts of Nevada, southwestern parts of Utah, and eastern California at its boundaries. Within this land, you will find isolate mountains, wide flat plains, and overall less hill and fewer plants than it's surrounding desert brothers. There is an exceptional amount of popular cities (Las Vegas is the biggest) and attractions within this region, as well as an exceptional amount of lizards, snakes, scorpions, and ground brush everywhere you look!
When in Mojave, head to:
Joshua Tree National Park - Miles of unspoiled desert scenery.
Death Valley National Park - The hottest place in America, literally!
Route 66 - the Black Mountains, mining towns, and tons of history.
Lake Mead - One of the artificial lakes damming the Colorado River.
Ash Meadows - Unusual water mecca, a wetland filled with springs.

The Sonoran Desert is the arid, yet vast, 100,000 square miles of desert land located in southwest Arizona and Southeastern California, most notably covering the regions of Baja California and Sonora. This strip of desert land covers the Colorado and Yuma Deserts, as well as such major cities as Phoenix, Tucson, Yuma, Palm Springs, and El Centro. Sonoran is what many travelers consider to be the 'most archetypal desert scenery in the southwest', holding many typical plains and cacti, most notably the giant saguaro cactus. There are several sub-regions within this desert, as well as several really vibrant and unique sights to be seen, both geographically and historically.  

So you're in Sonoran? You should go here:
Algadives Dunes - California dune-filled desert playground.
Ironwood Forest National Monument - Land in Arizona boasting ghost towns, a working silver mine, and miles of the pristine desert landscape.
Picacho Peak State Park - Ancient volcanic peak surrounded by flat, cactus-filled desert.
Salton Sea - California's large lake formed by the Colorado River, surrounded by salt flats.
South Mountain Park - Just like it sounds, Arizona's mountainous Phoenix ridges!
One of our favorite desert areas in the U.S is the Chihuahuan Desert, the small area of land
that covers southeastern New Mexico, Western Texas, and a good portion down south into Mexico. This is the second-largest desert area in the U.S, boasting higher elevations and higher precipitation, for the most part, than the others. There are over 2 dozen rare cacti species here, the entire land covered with them, though they are typically smaller in size than elsewhere. There are also more widespread plants such as yucca and agave here as well, really adding something special to the scenery and ambiance of this desert region.
Here's where to go in the Chihuahuan Desert:
Big Bend National Park - A remote patch of desert wilderness filled with mountain and river scenery.
Carlsbad Caverns - These caverns are New Mexico limestone icons!
Guadalupe Mountains National Park - Enjoy the scenic desert view from these isolated mountains.
White Sands National Monument - Hello white gypsum sand dunes, goodbye mountains!
Oliver Lee Memorial State Park - A New Mexico classic park at the edge of the Sacramento Mountains.