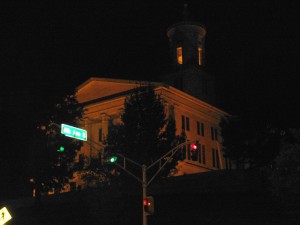 Nashville Ghost Tour
Get in touch with the paranormal side of the city as you take in a Nashville Ghost Tour.
Started in 2003 by couple Frank and Kim Harris, this tour leads guests to the most haunted and historic Music City sites for what they like to call 'sneaky history lessons'. The couple has an impressive collective knowledge of paranormal history, being featured on such TV stations as NBC, CBS, FOX, ABC, TLC, PBS, and HBO. They have been featured in My Ghost Story, Haunted Nashville, and published a book called Southern Haunts.
The most popular tour that can be taken is the Haunted Downtown Nashville tour. This unique, entertaining, and educational tour explores the shadow-filled streets of Nashville for an hour and a half. Your group's lantern-bearing guide will explain the dark mysteries and supernatural experiences of iconic Nashville landmarks, such as the Ryman Auditorium (in which the building's particularly noisy original owner Captain Thomas Ryman is said to haunt the halls), Tennessee State Capitol, and Printers Alley. Along the way on this ½ mile stroll rich in spirits and rich in history be sure to bring a camera to capture your own paranormal activity, as well as comfortable shoes and a bottle of water (hydration is your first defense against the sultry Nashville nights).
You can also choose to take the Haunted Hearse tour, featuring murder on music row, ghosts of Union Station, and the oldest cemetery in Nashville. Another fan favorite is the Haunted Tavern tour, truly allowing you to be 'intoxicated' in the 'spirits' of all the local pubs and bars. Whatever tour your group decides to take, be prepared to get a chilling and informative lesson on this city full of music.